From amazing amusement parks to fascinating national parks, day trips from Louisville are simply on another level. What's even better, tourist destinations that offer these unforgettable day trips are spread throughout the city, with some just a short drive from downtown Louisville.
1) Harrods Creek Park
A tour we think you'll love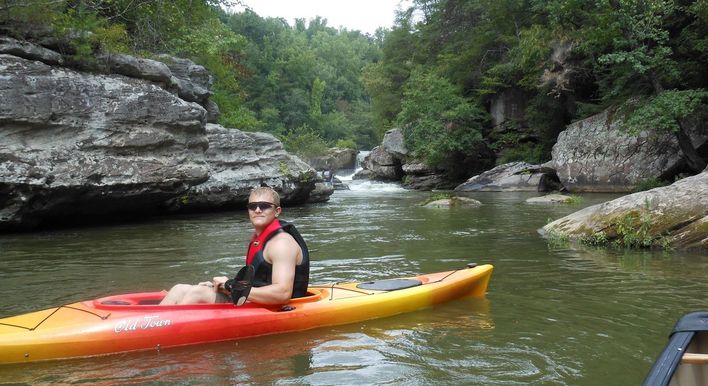 Single Kayak
From $35
View tour
If you want to spend your day trip in a peaceful area, look no further than Harrods Creek Park. It is one of the main waterways in Louisville; hence, it is suitable for kayaking and canoeing. For the best experience at Harrods Creek, consider renting kayaks and canoes from Nachand Canoe & Kayak Rentals.
Dedicated to giving you exciting weekend trips from Louisville, Nachand Kayaks offers a wide range of rental options that include:
Tandem Kayak

Single Kayak

Kayak/Paddleboard Hybrid

Stand Up Paddleboard

Three Person Canoe
Our team is made up of people who love what they do and will help you rent a kayak based on your body type for an unparalleled experience. Call Nachand Kayaks today or rent a kayak for endless fun moments in Louisville and Prospect, Kentucky.
2) Mammoth Cave National Park
Mammoth Cave is the world's longest cave system, and it takes about an hour and a half to get there. Established to preserve the scenic valleys and cave system of the Green and Nolin rivers, the national park offers plenty of activities for anyone who comes for a day trip here. These activities include:
Horseback riding

Picnicking

Fishing

Biking

Cave tours
Furthermore, the mammoth cave boasts fascinating hiking trails that you can take for endless fun. The park also has hotel facilities and campgrounds for overnight adventures.
3) Red River Gorge
A list of Louisville day trips is incomplete without Red River Gorge, and that is because this must-see tourist destination has a lot for its visitors. There are sandstone arches, jagged cliffs, waterfalls, rock shelters, and naturally formed bridges to wow you throughout the day.
Another reason to make this gorge the go-to for your day trips is that it boasts three main rock-climbing areas that offer amazing climbing opportunities. These climbing areas are as follows:
Pendergrass-Murray Recreational Reserve

Miller Fork Recreational Reserve

Bald Rock Recreational Reserve
The gorge also offers kayaking adventures, plus it has several trails, such as Gray's Arch, Double Arch, and Arch of Triumph, among others.
4) Spring Mill State Park
Day trips to this state park are exciting as well. The park is located in Indiana, and the driving distance from Louisville is around one hour and 10 minutes. Once there, the state park will leave you wowed with plenty of recreational activities such as mountain biking, hiking, nature activities, swimming, and cave tours.
Spring Mill State Park also has four interpretive facilities, which are:
Twin Caves Boat Tour

Grissom Memorial

Nature Center

Pioneer Village
Pioneer Village is a charming town established in 1814 and features 20 historic buildings. The Nature Center, on the other hand, offers exhibits on the natural history of the area.
5) Brown County State Park
Covering 16,000 acres of rugged hills, gorges, and ridges, Brown County State Park has what it takes to make your day trips unforgettable. A road trip from Louisville to this state park takes just one hour and 20 minutes, and once there, you will be able to indulge in several activities the place has to offer.
Moreover, this state park is host to the following:
Mountain biking trails

Guided horse rides

Hiking trails

Large campgrounds
Brown County State Park is also the perfect place for picnickers since it boasts several areas with fireplaces and shelters close to drinking water, playground equipment, and restrooms.
6) Cave City
Cave City is a stunning tourist destination that offers amazing day trips to its visitors. It is unique in that its attractions are both on and under the surface. It has several shops, museums, restaurants, and 1,000-year-old underground formations, caverns & rivers. That said, when you come here, ensure you take a guided tour to Diamond Caverns, where you will see gorgeous limestone formations.
You should also not forget to visit Mammoth Onyx Cave – a wet cave featuring flowstones, columns, stalactites, and cave coral. Dinosaur World is another great spot you should not miss, especially if you have brought the kids along. Other areas to visit when you go there are the American Cave Museum and Hidden River Cave.
7) Frankfort
The driving distance from Louisville to Frankfort is 57 minutes. It is just a short drive, which makes it an excellent destination for a day trip with family. Although Frankfort is a small city, it has a rich history, which makes it perfect for weekend trips from Louisville.
A visit here gives you the opportunity to see Thomas D. Clark Center for Kentucky History and Liberty Hall Historic Site; these places provide detailed information about the 200-year history of Frankfort. This charming town is also home to the Old Governor's Mansion – the oldest official residence in America still in use.
Other amazing places for memorable day trips from Louisville, KY include:
Kentucky Horse Park

Ohio River

Lost River Cave

Holiday World: Features a water park and a theme park
Weekend Trips From Louisville
Day trips from Louisville are exciting, to say the least; that is because they offer a chance to indulge in plenty of recreational activities such as hiking, picnicking, swimming, and canoeing.
At Nachand Kayaks, we offer canoe and kayak rentals to allow you to explore Harrods Creek Park in a way never done before. Call us today to learn more about our services and how we can make your day trips from Louisville unforgettable!