From Louisville Mega Cavern to Kentucky State Fair, Louisville KY offers endless kid-friendly activities to help improve the bond between you and your little ones. It is, therefore, the place to take your kids after a busy week at school. Without further ado, here are the seven fun things to do in Louisville with kids.
1) Rent A Kayak To Explore The Stunning Harrods Creek Park
A tour we think you'll love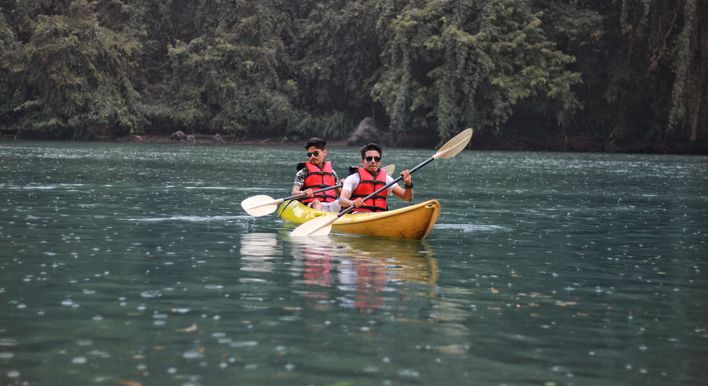 Tandem Kayak
From $60
View tour
Harrods Creek is one of the main waterways for Louisville kayaking, and the best way to explore it is to rent a canoe or kayak from Nachand Canoe & Kayak Rentals. Nachand Kayaks offers the easiest way to escape the hustles of the city and enjoy the wildlife and landscape at Harrods Creek.
At Nachand Canoe & Kayak Rentals, we offer different kayaking adventures to allow you to explore Harrods Creek with your older kids. These kayaking adventures include tandem kayak, single kayak, kayak/paddleboard hybrid, and stand-up paddleboard. Call us today or rent a canoe or kayak for an amazing adventure with your kids at Harrods Creek Park.
2) Visit The Louisville Zoo For Memorable Kids Friendly Activities
There are many things to do in Louisville Kentucky with kids, and visiting the zoo is one of them. With more than 1,700 animals in eight exhibits at any given time, this zoo in Louisville KY has what it takes to provide your kids with endless fun and education.
These eight exhibits are The Cats of the Americas, Gorilla World, HerpAquarium, South America, Australia, Glacier Run, Africa, and The Islands. A trip to Louisville Zoo will also help improve the health of your kids, thanks to one of the most fantastic hiking trails in Louisville KY. The 1-mile trail traverses the zoo, thereby allowing you to see different kinds of animals while burning calories through walking.
3) Be Wowed By The World's Largest Baseball Bat In Louisville Slugger Museum
Located in downtown Louisville, the Louisville Slugger Museum is one of the world's greatest sports museums. That said, visiting it should not miss from your list of things to do in Louisville with kids. All of the action takes place here; hence, it is a nice place to visit with your entire family.
The museum offers a factory tour that allows you to walk through the production line and see how Louisville Slugger bats are made. A visit to the museum not only redefines family fun but also helps kids learn a lot about baseball. Other museums you should not miss visiting when you come to Louisville KY include:
Kentucky Derby Museum prides itself in ensuring the history of the Kentucky Derby remains intact.

Frazier History Museum offers live performances to ensure ultimate kid-friendly fun.

Speed Art Museum offers amazing fun kids activities such as art-making sessions and tours.

Conrad-Caldwell House Museum was built in 1893 and features Richardsonian Romanesque architecture.
4) Go For Educational Activities At Kentucky Science Center
Louisville KY is full of family-friendly activities, thanks to tourist destinations like Kentucky Science Center. Featuring three floors of interactive exhibits, the science center provides kids with fun ways to learn about technology, math, and science.
One of the most exciting exhibits is the Science in Play area packed with different activity zones to challenge little ones to build scientific skills such as assessing risks, imaginative play, and investigating, among others. Ideally, this science center in Louisville KY is in a restored 19th-century warehouse; hence, it is full of history.
5) Indulge In The Numerous Activities At The Waterfront Park
Set over 85 acres, the waterfront park has several things to do in Louisville Kentucky with kids. It features a stunning Abraham Lincoln memorial where you and the kids can learn plenty of American history. The park also boasts impressive trails extending along the Ohio River. These trails should be a frontier for you if you love to walk or bike ride.
Additionally, the park has several kid-friendly facilities to provide unforgettable experiences in Louisville KY. These facilities include:
Stands for selling hot dogs, ice cream, and other snacks

Bike rentals

Kayak rentals

Picnic areas

A couple of playgrounds
The park also features Joe's Crab Shack, where you and the kids can stop to enjoy scenic views while eating a seafood meal.
6) Have All Kinds Of Fun At The Kentucky Kingdom & Hurricane Bay
Featuring over 70 rides, the Kentucky Kingdom & Hurricane Bay has plenty of thrills to keep your entire family extremely excited. While little ones will find rides like the Bella Musica carousel and bumper cars amazing, older kids will be carried away by the rollercoaster and breathtaking rides like Fearfall.
The amusement park also has more rides in King Louie's Playland area for unending fun moments. Hurricane Bay, the attached water park, is worth talking about too since it is host to lazy and fast-moving river rides, tube rides, and waterslides, among others.
7) Check Out The Falls Of The Ohio State Park
When someone talks about the famous things to do with kids in Louisville KY, the Falls of the Ohio State Park is unlikely to spring to mind since it is not technically in Louisville KY. However, it is worth checking out because it is near Louisville and has plenty of kid-friendly activities.
The fossil beds are among them, and they have been named a National Natural Landmark. Ideally, walking on these fossil beds down to the Ohio River is the highlight for most families that visit the Falls of the Ohio State Park.
Things To Do With Kids In Louisville, KY
Louisville KY has several fun family-friendly activities that make it a popular tourist destination for those with kids. Once here, you can visit Louisville museums and learn about the Kentucky Derby, among other things, or go to the amusement park to have unparalleled fun.
Moreover, you can rent a kayak or canoe from Nachand Kayak & Canoe Rentals to explore Harrods Creek Park. At Nachand Kayaks, we make kayaking adventures amazing by providing visitors in Louisville KY with different packages. Visit our website today to book a kayak or canoe for fascinating adventures in the waters of Louisville KY.